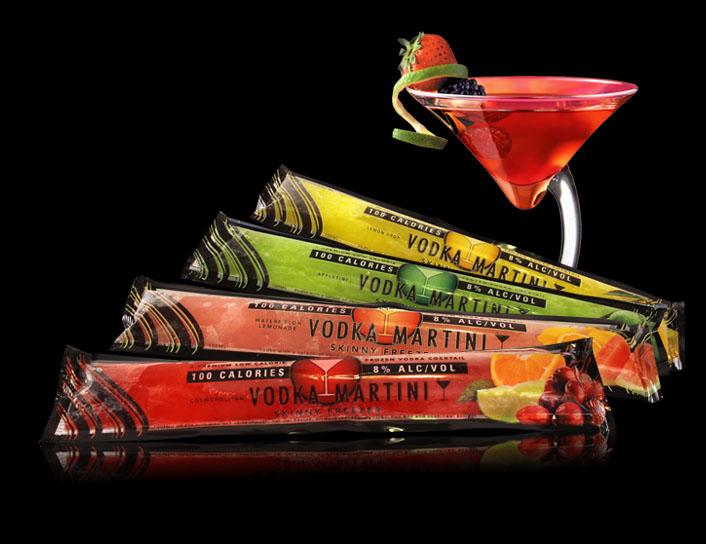 INTRODUCING SKINNY FREEZERS
Finally, a low –calorie frozen treat, for adults, that won't hit your waistline! It CAN however hit the POOLSIDE, BEACHSIDE, BARSIDE, and GRILLSIDE! Made with premium 8-times distilled, charcoal filtered Vodka, this medley of Martini flavors will delight your palette! So whichever "side" you choose take the new 100 calorie Slim Chillers Vodka Martini SKINNY FREEZER! Your back side will thank you.
COSMOPOLITAN
Bursting with an abundance of Cranberry, Orange and a pinch of Lime; the Cosmopolitan Skinny Freezer delivers the perfect refreshing low calorie Cocktail poolside, Beach-side, Bar-side, babe-side, Whatever-side, for any "Cosmo" lover…
WATERMELON LEMONADE
With a perfect balance of sweet Watermelon flavor and the zest of summer Lemonade, our Watermelon/Lemonade Skinny Freezer is sure to quench even the most discerning palate, while offering a unique flavor twist in a low calorie frozen Vodka Martini…
APPLETINI
Like biting into a Granny Smith Apple; our Appletini Skinny Freezer is both tart and sweet, with an amazing texture and a little kick. A sweet frozen Vodka Martini that refreshes at any event…you won't leave THIS Apple on your teacher's desk!
LEMON DROP
We dare you to try and stop at just one!…Imagine, if you will, the perfect mouth watering Lemon Drop Vodka Martini, carefully balanced with just the right Lemon zest and flavor…but now at only a 100 calories and FROZEN!!…What might have once been a dream, Slim Chillers has now made a reality!